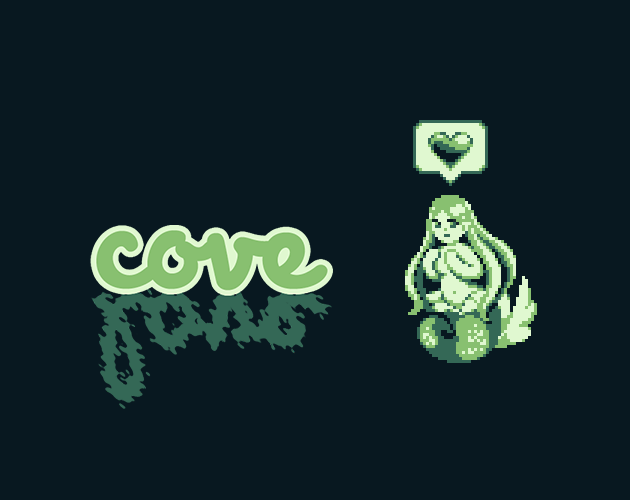 Cove
A puzzle game about a mermaid's quest to find shells... and love.
The mermaid's quest is simple: before she runs out of 💚, bring all three shells to her true love who is waiting at the entrance of the cove.
Created in three days for Global Game Jam 2022. May contain bugs.


If you played Cove, please leave us a comment!
| | |
| --- | --- |
| Status | Released |
| Platforms | HTML5 |
| Rating | |
| Authors | Abigail Flores, Ashley Rezvani |
| Genre | Puzzle |
| Made with | Clickteam Fusion |
| Tags | 2D, browser, chiptune, Cute, ggj2022, LGBT, Mouse only, Pixel Art, Retro, Short |
| Asset license | Creative Commons Attribution_NonCommercial v4.0 International |
| Average session | A few minutes |
| Inputs | Mouse, Touchscreen |
| Accessibility | Color-blind friendly, One button, Textless |
Comments
Log in with itch.io to leave a comment.
Fun game! I enjoy the way the whirlpools are used to create puzzles.
Super cute game with beautiful artwork. I loved it, really charming! Very light puzzle game, short and sweet like candy. It gives off this sort of nostalgic vibe from the microsoft puzzle collection, I don't know why.
It feels a little slow and could do with some more juice, but I do love the arrows that pop up at the start of a level and the first move of the whirlpool before you can act, to put an emphasis on that mechanic and really make it crystal clear! Great piece of UX!
Good job putting out something that's, all in all, quite polished, even if you didn't have time to make a level flow.
The last few levels were cute, I liked their design. They did bait me into an obvious course of action that didn't work, and I had to retry. Sweet!
My only complaint is that I'd want more levels, maybe some new mechanics to sink my teefs in, but it's better to leave the players wanting more!
I didn't really feel the theme coming through in the gameplay, though I see the thing with the underwater/land mermaid duality. Well, the game is wonderful so who cares!
Hi there, thank you ever so much for leaving such a thoughtful and insightful comment. We were going for a nostalgic vibe so I'm glad you picked up on that :)

I'm really happy to hear you enjoyed it and would have liked more levels! I hope we can - one day - come back to Cove and create an expanded version with more features... alongside some quality-of-life improvements.
Thanks again for playing! <3
Wow, what a charming little game. Your pixel art is impeccable, so beautiful! As a small bit of feedback, I would say it's a bit awkward that once I've completed a puzzle, the only way to progress to the next level is to press the X at the top corner - that's a bit counterintuitive. Great work overall!
Hi Corey, thank you ever so much for playing and taking the time to leave a comment. I'm really happy to hear you found the pixel art beautiful - drawing the whole game in 4 colours was a rewarding challenge!
Thank you for sharing this insightful feedback with us too - I totally agree! We wanted to add an option to jump to the next level after winning the current level but unfortunately ran out of time. If we get the opportunity to build on Cove, I'd be keen solve this awkwardness as a priority.
- Abby